MedtecLIVE and Medtec SUMMIT 2021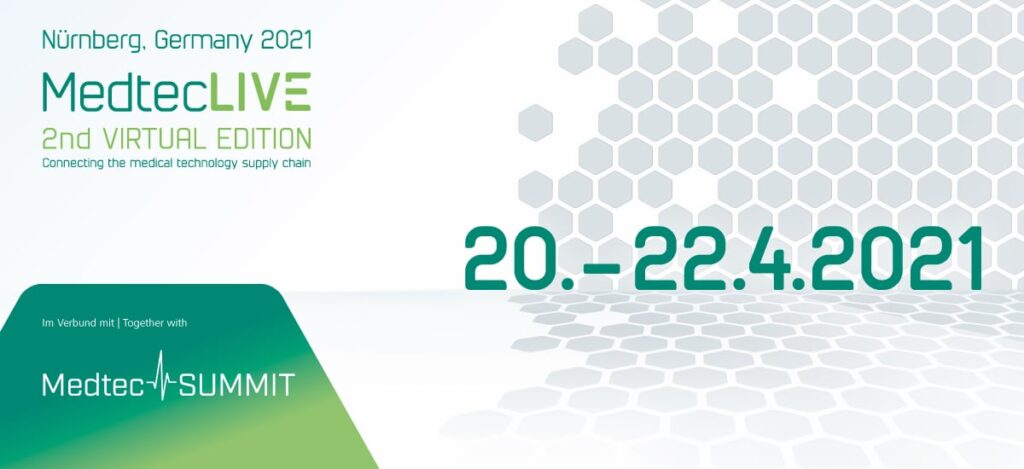 24 March 2021 – The second virtual edition of MedtecLIVE & SUMMIT from April 20th to 22nd offers the latest expert knowledge and networking for the medical technology industry. The virtual presentation of numerous exhibitors and experts, including from the MIRO Innovation Lab, with the help of a new user interface makes networking possible from home in a targeted manner.
Digitalization, technology and market are the three main themes of the international Medtec SUMMIT congress, which traditionally takes place at the same time. Under the patronage of the Bavarian State Ministry for Economic Affairs, Regional Development and Energy, a wide selection of research-relevant and practical lectures and discussion groups is offered in order to set new impulses for a sustainable, innovative and strong industry.
We would particularly like to recommend the interactive session on April 22nd at 3:30 pm with the topic "Surgical Robotics in EU and USA – Obstacles and Opportunities". Participants in the discussion are:
Prof. Dr. Dirk Wilhelm, Research Group Minimally invasive Interdisciplinary Therapeutical Interventions (MITI), Clinical Direktor
Julian Klodmann, Institute of Robotics and Mechatronics, German Aerospace Center, Scientific Head of MIRO Innovation Lab
José-Luis Moctezuma, Stryker, Vice President Robotics Technology Development
Robert Geiger, AKTORmed, CEO
Prof. Michael Friebe, IDTM GmbH
Dr. Joachim Heas, Intuitive Surgical Deutschland GmbH, Director Government Affairs DACH und Osteuropa
Further information and tickets for Medtec LIVE and Medtec SUMMIT are available at https://www.medteclive.com/.
We are looking forward to your visit!